When you purchase items through links on our site, we may earn an affiliate commission. Thank you for supporting the Innocent Lives Foundation.
In a previous article, we took a look at a variety of apps that help families monitor the content that enters or leaves the devices in their homes. In addition to apps you can install on a device, there are also hardware solutions which can be plugged into your home router and monitor anything on your network (all devices in your home connected to the internet).
The simplest of these hardware solutions is OpenDNS' Family Shield, Home, or VIP Home solutions. Upon activating one of the services on your router, all traffic from devices connected to your network will be routed through it. The limitation to this type of service is that it would only work for devices that are connected to your home network (e.g., a child's cell phone while at school or a friend's house would not be under its protection).
Another product, the Circle Home Plus is a hybrid solution consisting of a device that monitors communications from all devices connected to the internet in your home and an app for monitoring mobile devices. This covers a wide range of monitoring options on mobile devices and any device connected to your home network. You can purchase the app on its own and without the hardware for your router, but that restricts monitoring to just mobile devices. There are other hybrid solutions that offer similar capabilities like the Gryphon Guardian Advanced Parental Control System & Mesh WIFI Enhanced Security Router. 
This article is not a comprehensive overview of the variety of different solutions for monitoring your home network, but an overview of what can be done with this type of hybrid monitoring (ability to monitor both your home network and mobile devices) solution in general. 
Circle Media Labs, Inc. sent the Innocent Lives Foundation a complimentary Circle Home Plus device for our upcoming ILFest 2021, so we decided to try it out and provide the ins and outs of the setup and functionality it offered before raffling it off on July 10, 2021.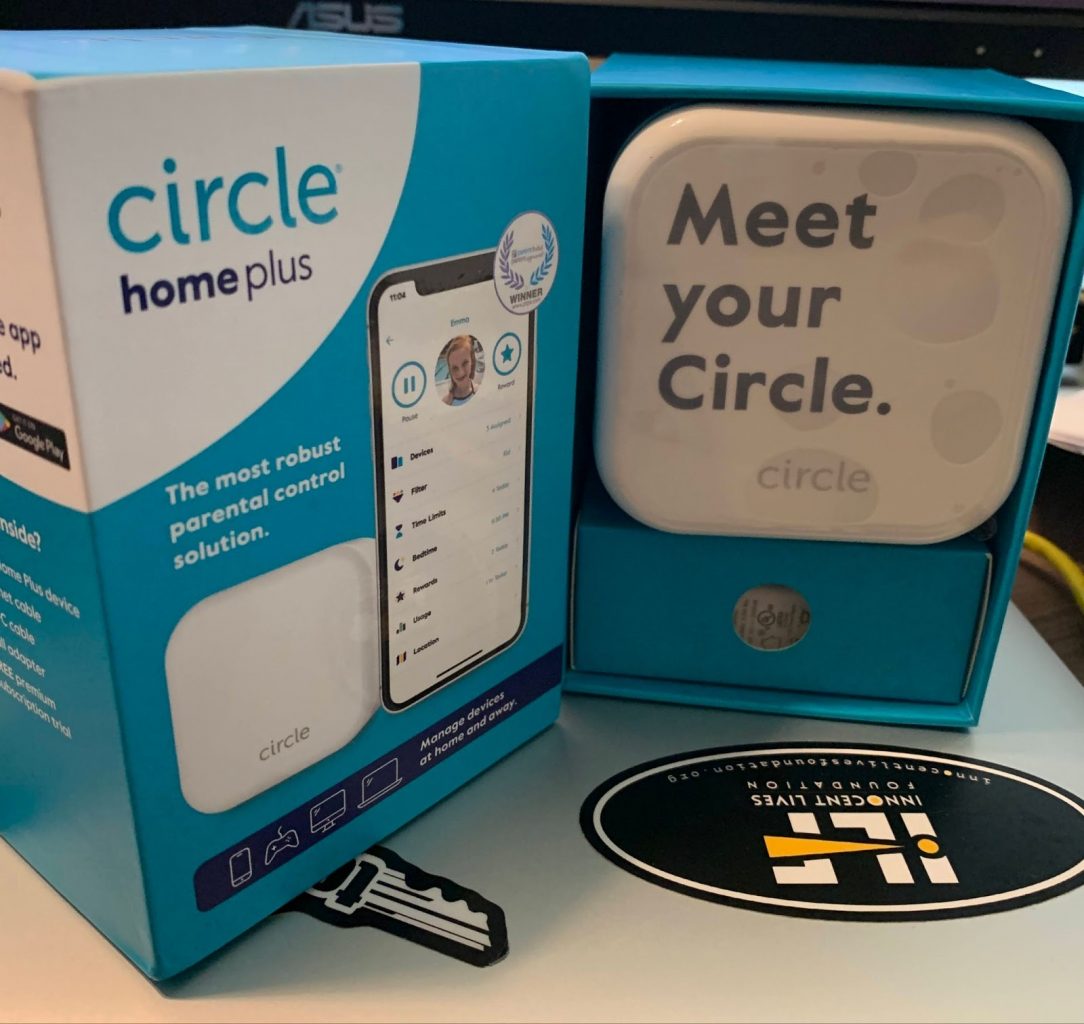 The contents for setup were pretty straightforward. There was the device itself, a power cord, and an ethernet cable. You start off by downloading the Circle Parent App on a mobile device that will serve to manage the service. Once installed, it walks you through setting up the app and the Circle device fairly seamlessly. The device can only monitor a single network. If you have a guest network or multiple virtual networks in your home, you will need to set it up on the one that needs to be monitored. For other monitoring devices that have built-in routers, you may have the option of monitoring multiple networks; however this device is not a router.
You can set up profiles for individuals in your home. Each profile can be defined as "Kid," "Teen," "Adult," or "None," each with a default set of restrictions that can be modified.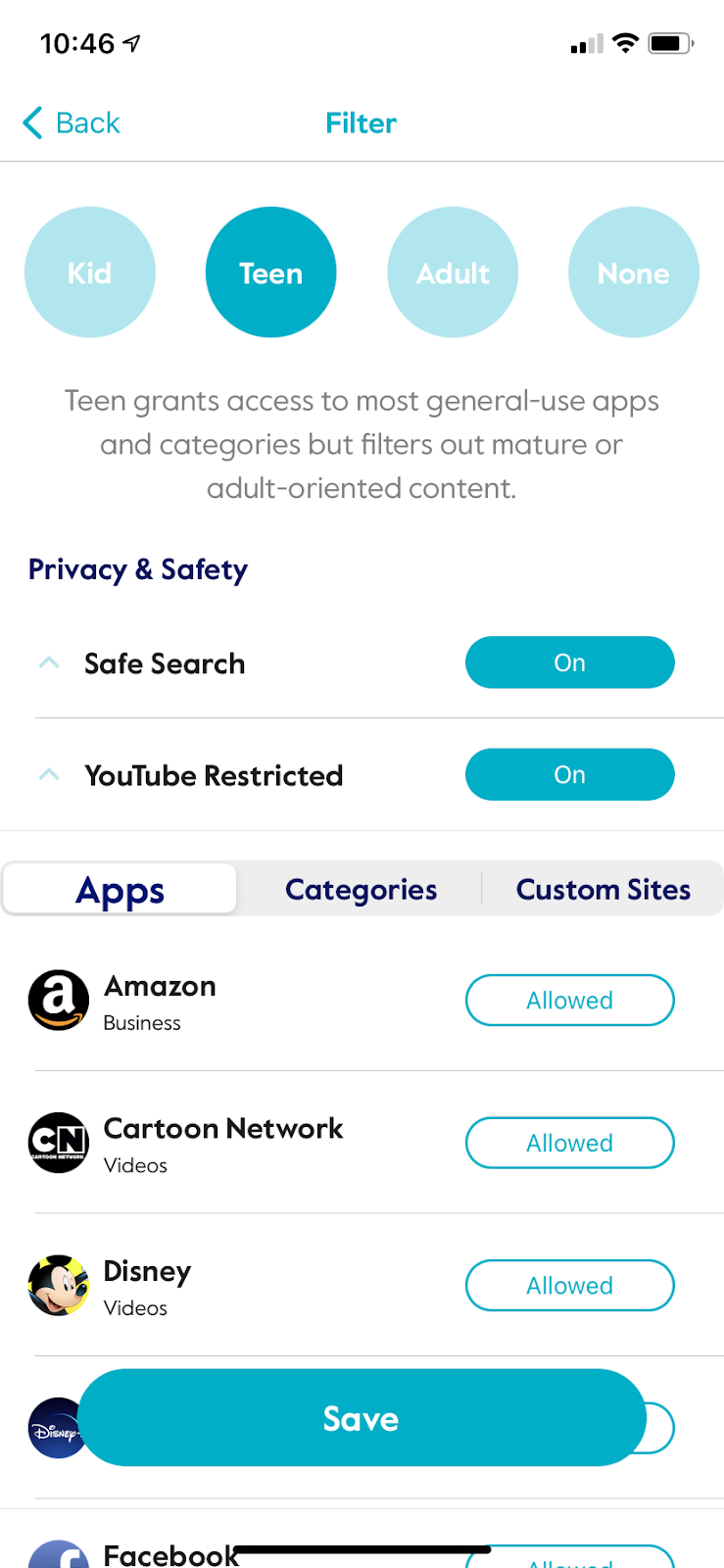 Assigning Devices to Profiles
In order to assign devices to a specific profile, start by downloading the Circle app on the device. When you launch the app it will ask you if it is the monitoring device or a device to be monitored (select the latter option). This will display a QR code that can be scanned by the managing device for easy integration into your list of monitored devices. You are then instructed to install a VPN client on the device that will facilitate the filtering of content both when in the home and when the device is away from your home network. The app also:
Walks you through enabling a delete-prevention setting on the device so that deleting the app requires parent approval

Asks for location privileges for tracking the physical location of the device via GPS (only for devices that can connect to cellular networks; WIFI-only devices would have to be connected to the internet to communicate that information)

Requires permission to run in the background, which will use a bit more battery life
I was able to add a variety of devices to be monitored by the Circle device:
Kindle Fire Generation 9 (Gen. 7 was unable to be added)

iPad Air (running iOS 12.5.3)

Nvidia Android Tablet (running Android 7.0)

Windows PC

MacBook Pro

Linux PC
Any device with WIFI would be able to be monitored including Chromebooks, smart TVs, smart speakers, video game systems, etc. Additionally any device running iOS version 12 or newer or Android 6.0 or newer should be compatible with the app.
Web Browsing History
The following picture displays some active monitoring that occurred across the devices listed above: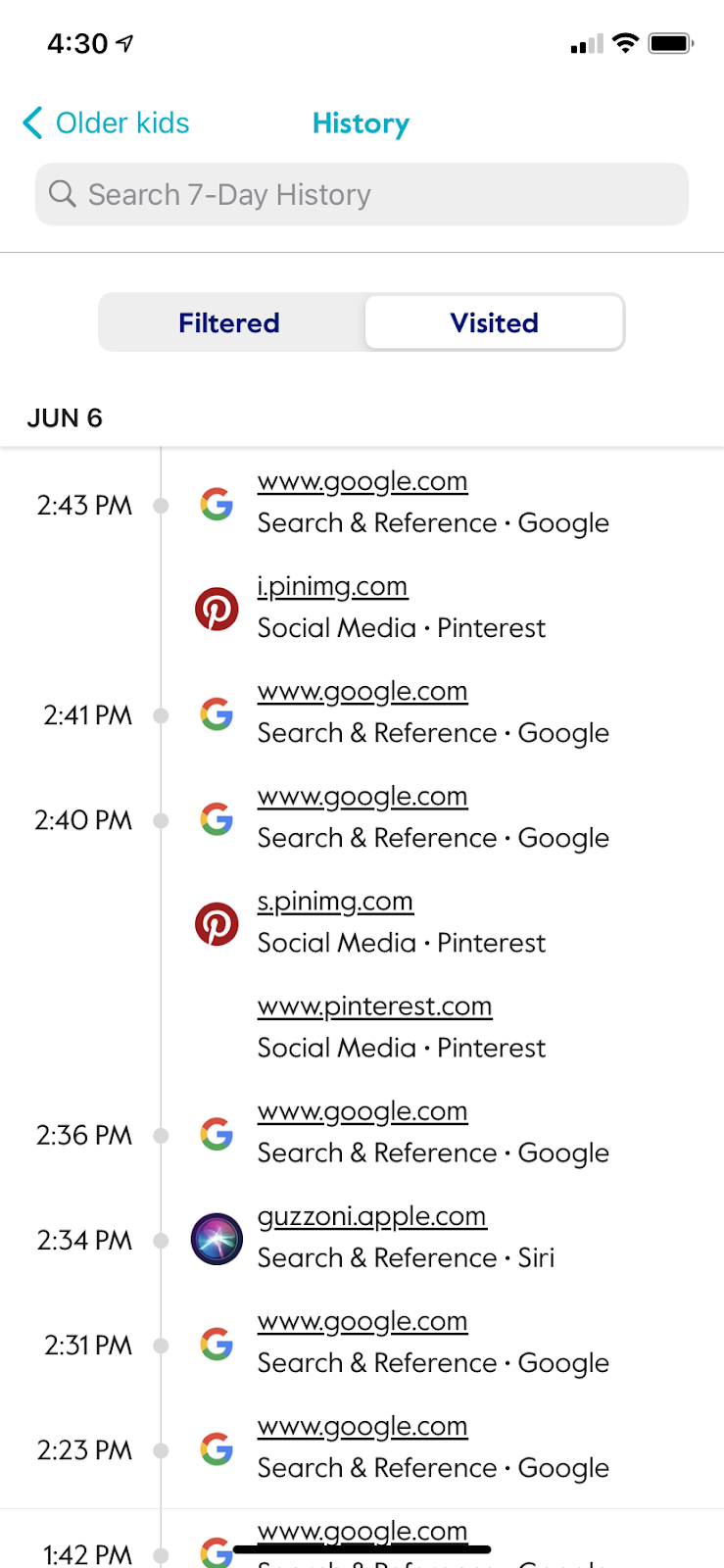 Web Content Filtering
Filters worked to actively block the intended category of sites across devices. When attempting to visit a blocked site, the page would not load: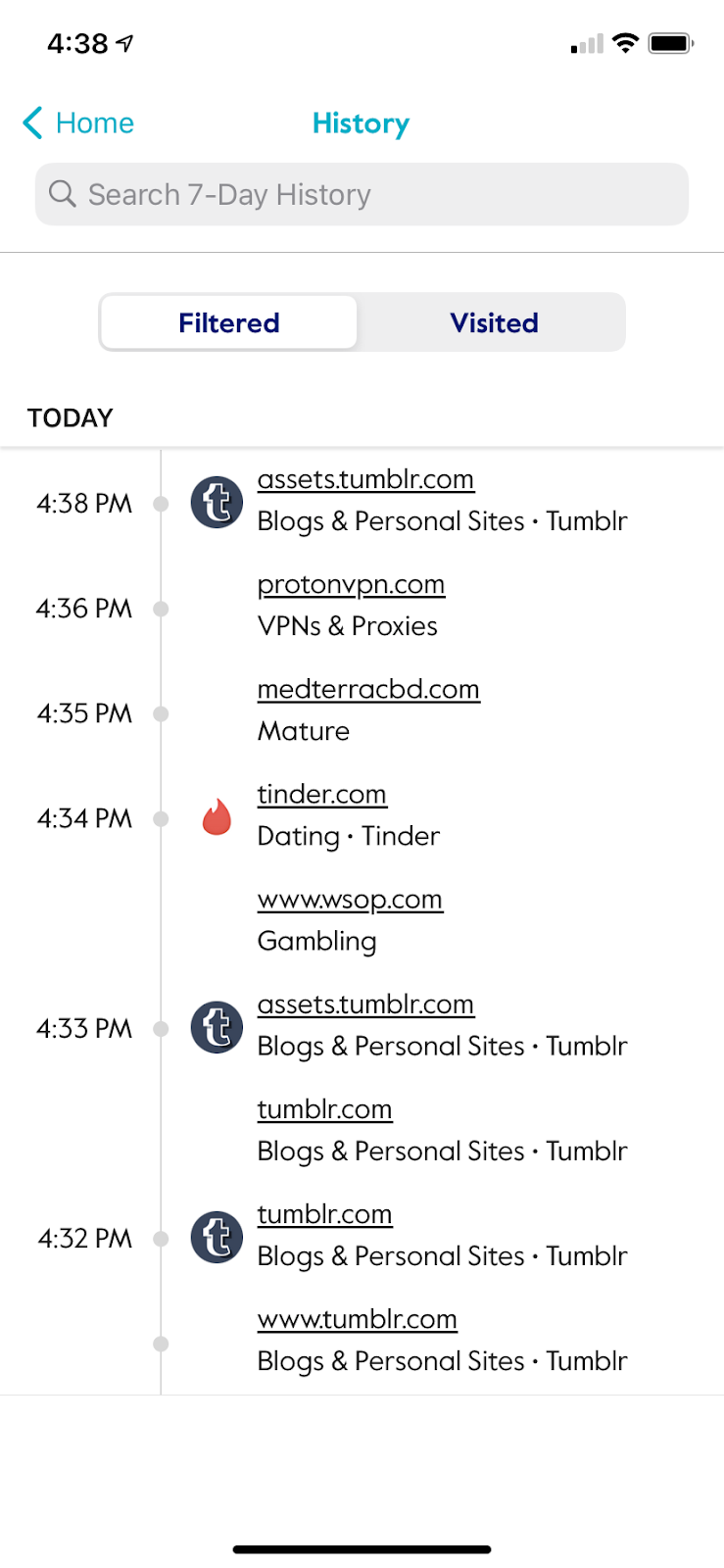 If desired, you can choose to unblock a specific site or set it as a focus time site (sites that are only allowed to be accessed during a predefined time period, like homework time):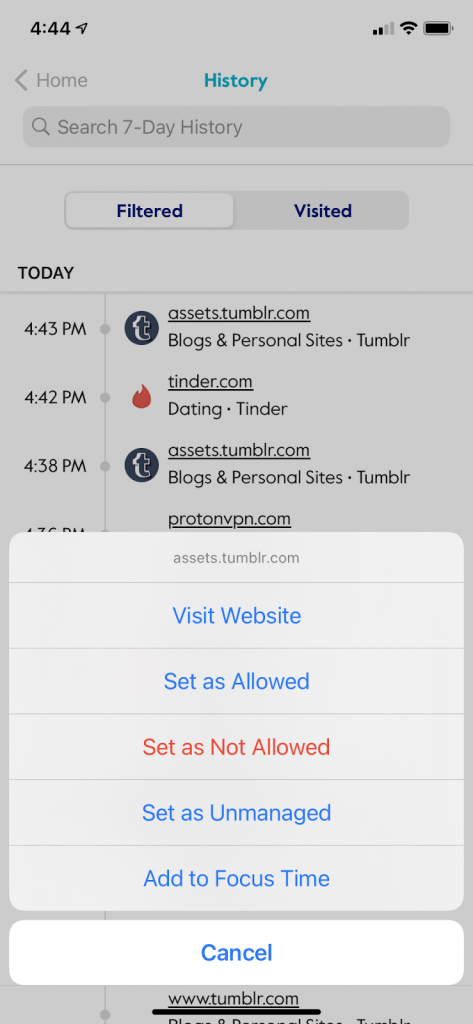 Other Settings
Each profile can have individualized settings for bedtime (disables internet during designated sleep hours) and focus time (allow-list for educational or approved sites during a specified time):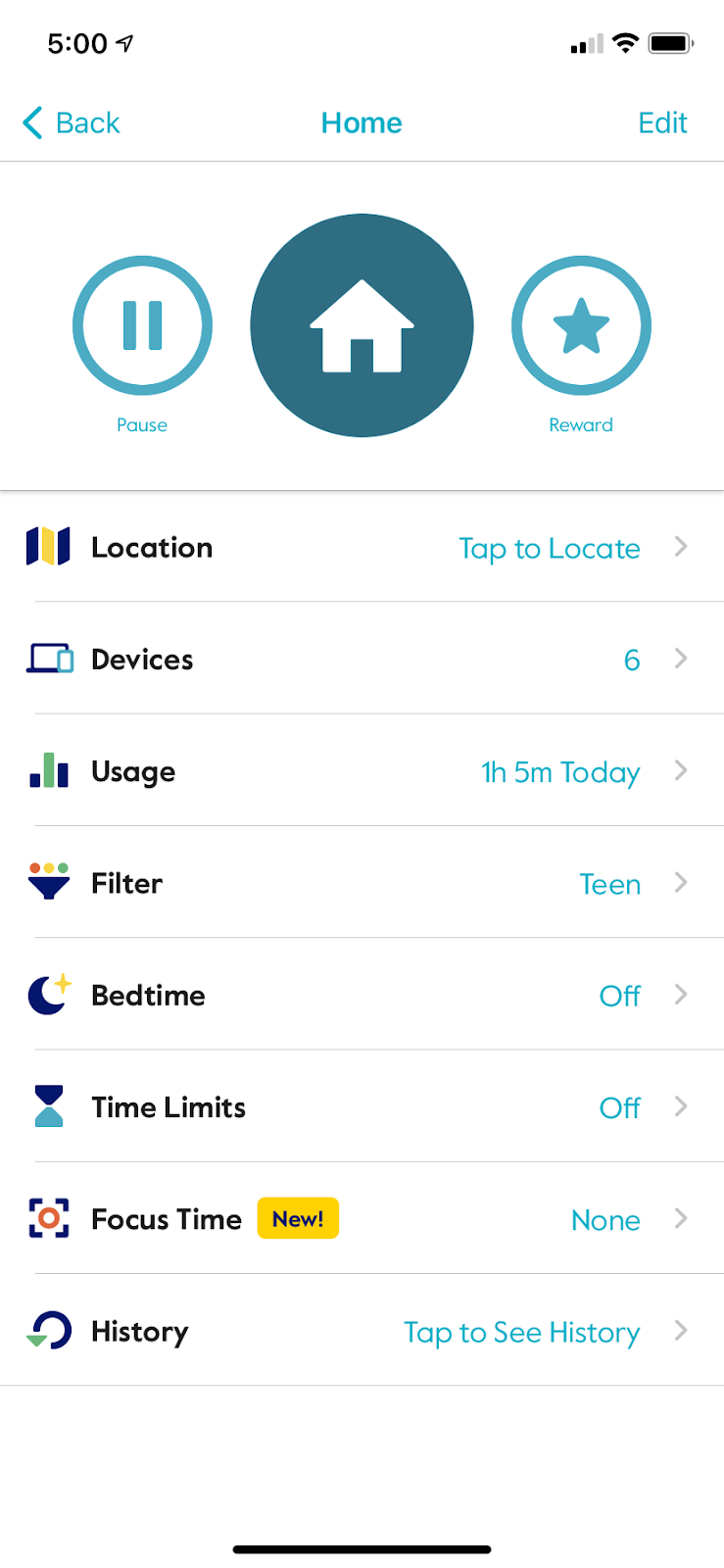 Final Thoughts
A Few Hang-ups with Circle
Setting up the device did not go as smoothly as explained in their instructions. I initially tried to plug it into my router via Ethernet cable, but that did not work immediately. I switched to pairing it wirelessly with the target WIFI network. That also did not work immediately; but leaving it on for a day or two, it eventually connected to the wireless network.
I then experienced a day or two where that network would not reach anything. It was a bit frustrating for people in the house, and I had to either switch them off the monitored network (easily done from within the Circle or turn off the Circle device). I searched the troubleshooting site for answers, but none seemed to help with these specific issues. A day or two later I tried again and things started working (as indicated by the screenshots above).
Additionally I prefer to run multiple networks to keep my smart devices (speakers, thermostat, toasters, TV, etc.) isolated from my main network, and my main network isolated from my administrative network. I realize that's not normal, but many routers do have a guest network setting that keeps guests isolated from the main network. As mentioned, these devices typically can only monitor one network.
What Circle Did Great
The best aspect of this device is the integration of mobile device monitoring inside and outside of the home and everything that isn't a mobile device on my home network (mainly family computers). The importance of the simplicity of a single provider managing all the monitoring you need cannot be understated.
Regarding the hang-ups mentioned above, Circle's website did have a number of FAQs that were applicable to my home network as well as a pretty thorough support site. They have a lot of other great resources in the form of general parenting advice when it comes to kids and screen time, psychology, and non-screen family activities.
I like the ability to set "Focus Time" where only approved sites and apps are allowed during a set time period, making for some flexibility for kids who need their devices for homework, but might need a little extra help to maintain focus and not get distracted by sites that often call their attention (i.e., push-notifications) – this could even be beneficial for my wife and me.
Another feature that is potentially beneficial was their "Rewards." You can award your kids "No Time Limit Today," "No Focus Times Today," or a "Late Bedtime."
Hybrid Solutions in General
For a more complete monitoring system, consider a hybrid solution that covers both your home network and mobile devices. Although a solution like Circle has this capability in one system, you can mix and match mobile device monitoring with a home network monitoring solution, as the single solution may not have all of the features you are looking for (e.g., any of the apps discussed in our previous article would work with something like the OpenDNS setup for your home network.)
Ultimately, this filtering can be circumvented given enough ingenuity (deny-lists are not meant to be the strongest security measure). It is best to implement these controls with open dialog with the children under your supervision. Open communication and trust will serve to provide stronger controls than what technology can provide. To learn more about discussing online safety with your children, check out our articles Online Safety in the Age of Online Learning and Staying Sharp as Parents and Talking to Children About Online Safety. Thank you to Circle for sending us a device and being a vendor for ILFest 2021.