DerbyCon Spotlight on Giving 
In September 2019, the Innocent Lives Foundation attended DerbyCon 9.0 "Finish Line," where the ILF was selected as one of the featured nonprofits of the conference. It was an honor to be chosen! As one of the nonprofits to receive donations from the event. We are thrilled to announce the ILF received more than $25,800.00 in donations including $12,400.00 at the closing auction!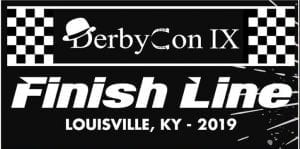 We would like to thank the entire crew at DerbyCon and the attendees of DerbyCon 9.0 "Finish Line" for their generous donations to the Innocent Lives Foundation. We truly appreciate your generosity!
DerbyCon 9.0 "Finish Line" was a fantastic event, and we are sad that it will not be returning next year. That said, DerbyCon was a wonderful convention that aimed to serve the information security (INFOSEC) community as well as charity organizations locally and globally. The founders of DerbyCon created this convention to be the culmination of the best parts of every conference they attended. The founders stressed three major values that would set DerbyCon apart and serve as the foundation of their convention:
Positivity and Inclusiveness
Knowledge Sharing
Charity
The founders' goal for positivity and inclusiveness was a significant factor in the foundation of the convention. The founders wanted to create a family-like environment that would welcome anyone interested in the INFOSEC community, regardless of their experience level.
The goal of knowledge sharing came from the belief that everyone's personal experience makes them unique and worth sharing. The open environment for sharing was meant to encourage new people to speak with their peers and establish themselves in the industry.
Keeping charity at the forefront of the conference was important to the founders because they wanted to give back to local and global causes. The founders wanted the conference to go beyond the walls of the convention and make an impact in the lives of others who need help.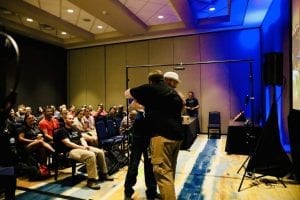 Chris and DerbyCon founder, Dave Kennedy, in SE Village at DerbyCon 9.0 "Finish Line"
We loved attending DerbyCon and are honored by the donations from DerbyCon and its attendees. To everyone involved in making DerbyCon so special, we tip our Derbys to you and miss you already.
As our COO, Shane McCombs said in the closing ceremony, we are eternally grateful that we can "tap this community to help get child predators off the streets."